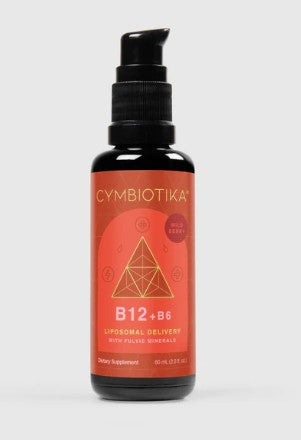 Vitamin B12 + B6
Original price
$63.00
-
Original price
$63.00
Benefits:
Vitamin B12 + B6 may help with the following:
Boosts energy
Improves mood
Supports heart health
PRO-TIP: Take B12 with Cymbiotika's D3 + K2 + CoQ10 to improve energy and mood.
Description:
Cymbiotika's B12 is an organic blend of methylcobalamin and adenosylcobalamin, the two most bioactive forms of Vitamin B12 and Vitamin B6. B12 is a vital nutrient that supports red blood cell production, mood, memory, and heart and bone health. Our folate is in the most bio-active L-methylfolate form, a critically important vitamin for those who carry a mutation in the MTHFR gene. To further enhance absorption, we have encased these nutrients inside of liposomes.
How to Enjoy:
Take 12 pumps daily*

Pump onto a spoon to consume. May be mixed into a beverage of your choice, and can be taken with or without food.

Store in a cool, dark place or refrigerate after opening. Do not freeze. Avoid oral contact with the pump dispenser to preserve freshness.
*To be used as directed by your healthcare provider or physician.
Disclaimer: If you are pregnant, nursing a baby, or have a chronic medical condition such as diabetes, hypertension or heart disease, be sure to consult your doctor or pharmacist before purchasing or taking any supplement.
Ingredients: 
Vitamin B12 (80% Methylcobalamin, 20% Adenosylcobalamin), Vitamin B6 (Pyridoxine), L-Methylfolate (Folate), Fulvic Acid
Other Ingredients: Purified Water, Organic Glycerin, Wild Berry Extract, Malic Acid, Konjac Root, Phosphatidylcholine, D-Alpha Tocopherol, Potassium Bicarbonate, Organic Citrus Extract