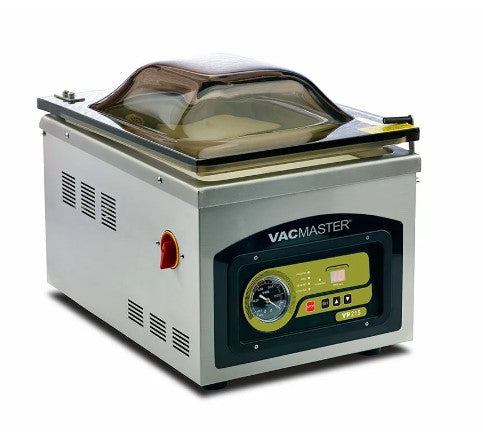 VacMaster VP215 Best Selling Commercial Chamber Vacuum Sealer
Save

3

%
Save

3

%
Original price
$1,949.99
-
Original price
$1,949.99
Description
The VacMaster VP215 Chamber Vacuum Sealer is designed to vacuum package anything. With chamber technology, you're able to vacuum package liquids and liquid rich food. Increase the shelf life up to 5x longer than traditional storage methods. You can do it all with the VP215. 
Features a heavy-duty professional grade 1/5-hp rotary oil pump, this machine will stand up to prolonged and continuous use. Will also deliver a strong, consistent vacuum and seal every time. The VP215 is ideal for small businesses or small restaurants, hunters and fishermen processing game at home, and sous vide applications.
Heavy-duty 1/5 hp oil pump
New filter and cap cover combo
10 Inch removable seal bar with double seal wire
Cycle Time: 20-40 Seconds
Stainless steel body
Easy-to-use digital control panel and easy-to-read pressure indicator
Maximum Chamber Bag Size: 10" x 13"
Chamber Size (WxDxH): 11.25" x 15.25" x 5"
Overall Dimensions (WxDxH): 14" x 20" x 15"
Weight: 84 Pounds
Includes: filler plates, oil, maintenance kit, and manual
Includes 60 assorted 3-Mil Vacuum Chamber Pouches

20 6" X 8" Chamber Pouches
20 8" X 12" Chamber Pouches
20 10" X 13" Chamber Pouches
Additional Information: 

SKU:VP215
Condition: New
Machine Type: Tabletop Chamber
Chamber Size:11.25" x 15.25" x 5"
Seal Bar Length:10.25"
Distance Between Bars: N/A
Vacuum Pump: 1/5 HP Rotary Oil Pump
Cycle Time: 20-40 Seconds
Electrical Specs: 110V, 60Hz, 4 Amps
Gas Flush:N/A
Machine Dimensions: 20" x 14" x 15"
Weight:84 lbs
Maximum Bag/Pouch Size: 10" x 13"
Compatible Bags/Pouches: Chamber Vacuum Sealer Pouches
Shipping: Truck Only
Includes: 60 assorted 3-Mil Vacuum Chamber Pouches: 25 (6" X 10"), 25 (8" X 12") and 25 (10" X 13"), 2 Filler Plates, Maintenance Kit, and User's Guide