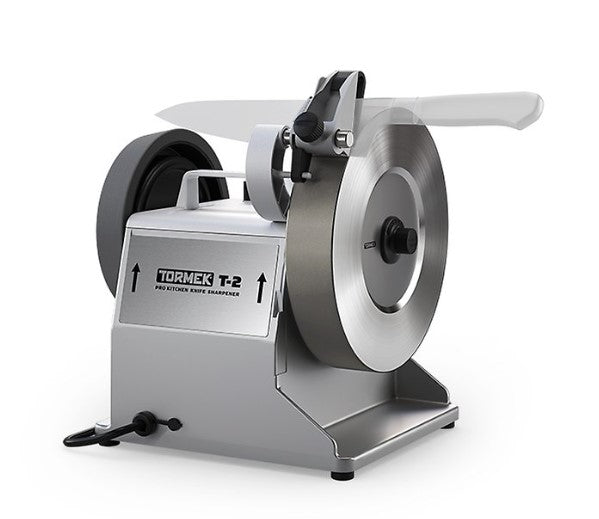 Tormek T-2 Pro Kitchen Knife Sharpener
Original price
$1,499.99
-
Original price
$1,499.99
OFFERING KNIFE SHARPENING IN-STORE! ONLY $0.80 AN INCH.
Why the Tormek T-2 Pro Kitchen Knife Sharpener?
Professional sharpening in 60 seconds.
Quick and easy setup.
Patented guide provides a consistent angle and smooth bevel.
Fine-grained diamond grinding wheel for maximum sharpness and edge retention.
Separate composite honing wheel with integrated polish for honing and polishing in clean environments.
Easy on knives – doesn't remove more steel than necessary.
Easily replaceable diamond grinding wheel – available in three different grits.

Magnet in the patented guide collects steel particles.
Knife protection felt in the guide protects your finest knives from scratching.
Sharpen round, rotary knife blades. Complement with RBS-140 Round Blade Sharpening Attachment.
Quiet running, just 54 dB.
8-year warranty (5 years + 3 years when you register online) for professional use as well.
Really sharp, really simple
The Tormek T-2 Pro Kitchen Knife Sharpener provides professional sharpening. This concept is a progression of the diamond whetstone, and it gives you full control in combination with the patented angle guide. However, you don't just hone the cutting edge as with manual whetstones, honing rods, or conventional sharpeners. Instead, you resharpen your knives and give them a new, precise edge that's evenly sharpened across the entire bevel. It's like having professional sharpening service at your restaurant.