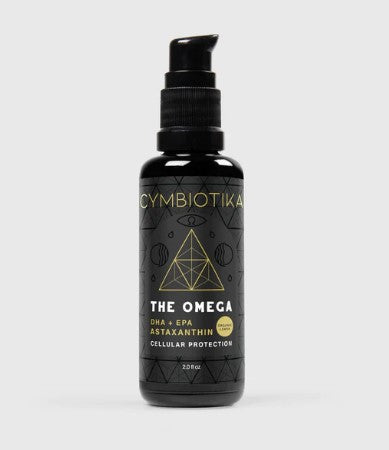 The Omega
Original price
$94.00
-
Original price
$94.00
Benefits
The Omega may help with the following:
Supports brain, eye, and heart health

Reduces inflammation

Fish-free DHA & EPA formula

PRO-TIP: Take The Omega with Cymbiotika's Glutathione for healthy, balanced skin.
Description
We are proud to offer the highest quality vegan Omega 3 DHA/EPA supplement available. Modern biology has identified that DHA is a critical nutrient for our brain, eyes and central nervous system. This supplement may hydrate the skin and decrease blood pressure while balancing cholesterol levels.
How to Enjoy
Take 12 pumps daily*
Pump onto a spoon to consume. May be mixed into a beverage of your choice and can be taken with or without food.
Store in a cool, dark place or refrigerate after opening. Do not freeze. Avoid oral contact with the pump dispenser to preserve freshness.

*To be used as directed by your healthcare provider or physician.

Disclaimer: If you are pregnant, nursing a baby, or have a chronic medical condition such as diabetes, hypertension or heart disease, be sure to consult your doctor or pharmacist before purchasing or taking any supplement.
Ingredients
Docosahexaenoic Acid (DHA), Eicosapentaenoic Acid (EPA), Organic Sea Buckthorn Oil, Icelandic Astaxanthin, Non-GMO Phosphatidylcholine, Evening Primrose Oil

Other Ingredients: Organic MCT Oil, Organic Monk Fruit, Organic Lemon Oil