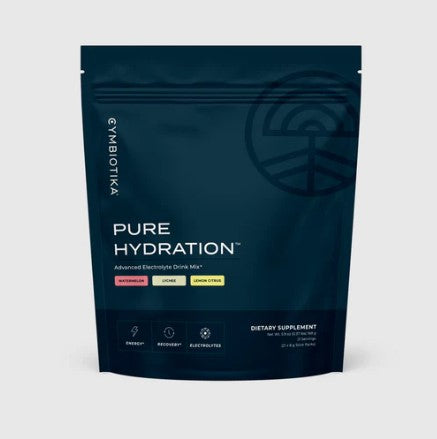 Pure Hydration
Pre-order
Original price
$50.00
-
Original price
$50.00
Benefits
Pure Hydration may help with the following:
Increases cellular hydration
Replenishes electrolytes
Improves athletic recovery
PRO-TIP:  For enhanced fitness performance, consume Pure Hydration during exercise followed by our Plant Protein after exercise.  
Description
This complex formula includes vitamins, minerals, electrolytes and amino acids that provide your body with proper hydration and electrolyte balance, as well as recovery from physical activity.
How to Enjoy
Mix 1 stick pack with 10-12 oz of cold water. Take daily for hydration and post-workout recovery.

Store in a cool, dark place away from direct sunlight.
*To be used as directed by your healthcare provider or physician.
Disclaimer: If you are pregnant, nursing a baby, or have a chronic medical condition such as diabetes, hypertension or heart disease, be sure to consult your doctor or pharmacist before purchasing or taking any supplement.
Ingredients
Vitamin C (as PureWay-C®), Riboflavin, Niacin (as niacinamide), Vitamin B12 (as Methylcobalamin), Calcium (as calcium bisglycinate), Phosphorus (as potassium phosphate), Magnesium (as magnesium glycinate), Sodium (as sodium citrate, sea salt), Potassium (as potassium chloride, potassium phosphate), Bamboo Leaf Extract (70% silica), L-Tyrosine, L-Leucine, Taurine, Alpha Ketoglutarate (as arginine Alpha Ketoglutarate), L-Glutamine, L-Isoleucine, L-Valine, Grape Seed Extract
Other Ingredients:
Watermelon Flavor
Organic Cane Sugar, Malic Acid, Organic Watermelon Flavor, Organic Rice Hulls, Organic Stevia leaf Extract, Organic Beet Powder

Lychee Flavor
Organic Cane Sugar, Malic Acid, Organic Lychee Flavor, Organic Rice Hulls, Organic Stevia leaf Extract
Lemon Flavor
Organic Cane Sugar, Malic Acid, Organic Lemon Flavor, Organic Rice Hulls, Organic Stevia leaf Extract, Organic Turmeric Extract