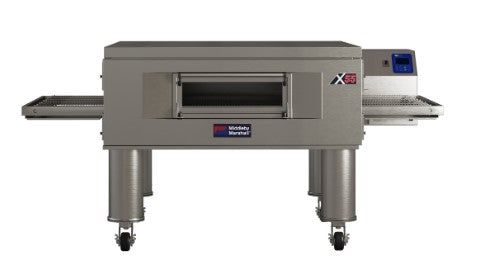 Middleby Marshall X55 - Gas Conveyor Oven - 32" Wide Belt, 55" Cooking Chamber
Pre-order
Original price
$0.00
-
Original price
$0.00
Please contact for a quote!
A stackable gas-powered conveyor oven made in America
The Middleby Marshall X55 is Middleby's newest offering of conveyor oven. This conveyor oven – sometimes referred to as an impinger oven – has a belt that's 90.8-inches long, and a chamber that's 55-inches long. Out of all the conveyor ovens we offer on our website, this has one of the largest belts and chambers; however, the machine is an ergonomic offering compared to other Middleby Marshall models. Overall dimensions (WDH) sit at 90.78" x 59.20" x 43.22", and the oven can be stackable up to three high.
The Middleby Marshall X-Series are meant to be economical due to baking at a lower temperature than more traditional conveyor ovens. The standard bake operating temperature for this model is 149° to 315° Celsius (300° to 600° Fahrenheit). Additionally, the oven can bake faster than other models. The average time range for baking ranges from 1 – 20 minutes.
Other features of the X55 conveyor oven include quiet operation, and an insulated front of the oven so it remains cool-to-the-touch during the cooking process. It can be powered by natural gas or liquid propane, but the ovens ship from the factory as natural gas and include a liquid propane conversion kit at no charge. Also, all of its parts can be removed for easy cleaning. Lastly, this oven is made in America.
Middleby Marshall ovens are known across North America as the standard choice for most pizza restaurants. More traditional deck ovens can be hard for less experienced staff to operate, but with a Middleby Marshall conveyor oven, someone who has little training will be able to cook pizzas, calzones, etc. All they have to do is place the food on the conveyor.
Features
Made in America
Cooks at lower temperatures without sacrificing baking speed
Overall dimensions (WDH) 90.78" x 59.20" x 43.22"
Powered by natural gas or liquid propane
90.78-inch long cooking belt
55-inch cooking chamber
Baking time range of 1 - 20 minutes
Reversible conveyor belt provides automatic delivery of product
Front-loading, cool-to-the-touch window
Stackable up to three high
Parts can be easily removed for cleaning
Specs
Model X55
Brand Middleby Marshall
Dimensions (WDH) 90.78" x 59.20" x 43.22"
Belt Length 90.78"
Chamber Width 55"
Power Type Natural gas or liquid propane