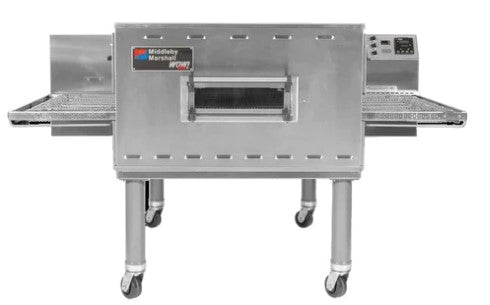 Middleby Marshall PS3240 - Electric Conveyor Oven - 34" Wide Belt, 40.5" Cooking Chamber
Pre-order
Original price
$0.00
-
Original price
$0.00
Please contact us to get a quote!
The Middleby Marshall PS3240 is an electric conveyor oven, otherwise known as an impinger oven. Impingement simply means "to advance over an area." So, impinger ovens take your food from one end of a conveyor to the other and cook it in minutes. These types of ovens can be used to cook a variety of different foods: pizza, lasagna, paninis, soup, and much more! Ultimately, they're commonly used for pizzas.
The Middleby Marshall PS3240 is a floor model and has a low oven profile. The overall dimensions (WDH) are 76.5" x 60" x 47". The cooking chamber is 40.5" long, and the conveyor itself is 33.5" wide, which is more than enough space to fit two 12 inch pizzas side by side. This oven features an advanced technology air delivery system that utilizes vertical columns of hot air as opposed to high temperatures. These streams of hot air result in rapid baking without burning.
Some other features of this conveyor oven include a safety feature that keeps the exterior cool under 49° Celsius during operation. Crumb pans, end panels, air fingers, and the folding conveyor belt can be removed for easy cleaning, and the control panel is right in front for easy access. Last but certainly not least, this oven is made in the USA!
Middleby Marshall conveyor ovens are known across North America as the standard choice for many chain pizza restaurants. This is because a traditional deck oven takes training to operate and hiring a pizza chef can be a challenging task. With an oven like the Middleby Marshall PS3240, someone with little to know training can operate it because you can already have the oven programmed. All they have to do is place it on the conveyor.
Made in America
Low oven profile and dual air return
40.5" long cooking chamber
33.5" wide, 76.5" long conveyor belt
Advanced technology air delivery system
Control compartment is designed for quick and easy access
Removeable parts for easy cleaning (crumb pans, end panels, air fingers, and a folding conveyor belt assembly)
"Cool skin" safety feature keeps the external surface of the oven under 49° Celsius
For installation under a ventilation hood only
SPECS
Model PS3240
Brand Middleby Marshall
Dimensions (WDH) 76.5" x 60" x 47"
Electrical 208v, 240v / 50, 60 Hz / 3 phase
Bake Operating Temperature 149° - 315° Celsius
Time Range 1.25 to 33 minutes
WARRANTY
One year parts and labour warranty.