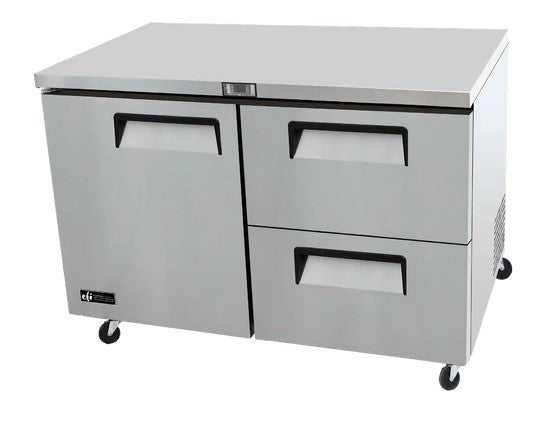 EFI CUDW2-60VC - 60.2" Undercounter Refrigerator with One Door & Two Drawers - 17.9 Cu. Ft.
Original price
$4,038.99
-
Original price
$4,038.99
The EFI "CUDW2-60VC" undercounter cooler comes from their "Versa Chill" line of refrigerators, which means it has been made with a high quality stainless steel while coming at a very reasonable price. This cooler comes with two pull-out drawers and one door.
The CUDW2-60VC is going to be perfect for a restaurant or commercial kitchen that needs that extra bit of space in their kitchen but doesn't want another upright cooler: you'll be able to place this conveniently under a counter, giving you some extra refrigerated space without taking up a large foot print.
EFI is a company that does one thing: Refrigeration! So they know their stuff and they do refrigeration very, very well. This means they've packed this small, economic cooler with a bunch of quality features. The interior corners are rounded to help you clean the unit easier. The gaskets are magnetic, which makes cleaning and maintenance a breeze.
Constructed out of high quality stainless steel.
Recessed handles take up less space, are easier to clean, and look great
Defrosting water is automatically evaporated
Adjustable and removable plastic coated wire shelves
A fan circulates the cold air to balance the temperature
SPECS
Model CUDW2-60VC
Doors 1
Drawers 2
Dimensions (WDH) 60.2" x 30" x 34.1"
Capacity 17.9 cubic feet
WARRANTY
Two year parts and labour warranty. Five year warranty on the compressor parts.