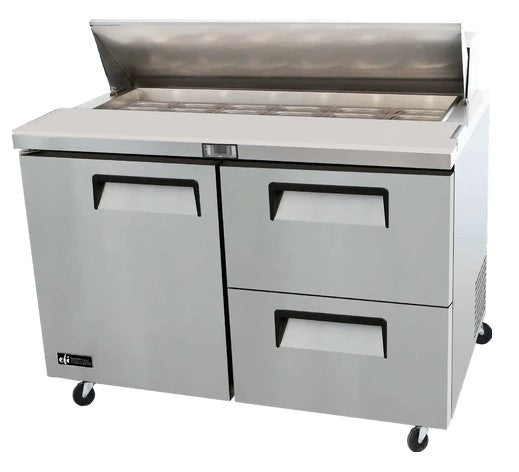 EFI CSDW2-48VC - 48.2" Refrigerated Prep Table with One Door & Two Drawers
Original price
$4,571.99
-
Original price
$4,571.99
The EFI CSDW2-48VC is part of EFI's "Versa-Chill" line of refrigerators, so this product has been constructed of high quality stainless steel—both on the inside and outside. This model is 48.2 inches wide and will give you access to 12 cubic feet of refrigerated space below (as well as the space above for your food).
This prep table is perfect for a restaurant or café looking to make salads or sandwiches quickly and easily, and so EFI has loaded this table with many great features. The curved inside corners and the magnetic gaskets allow for easy cleaning. A fan circulates the cold air, so that your products are kept at the optimal serving temperature.
Any defrosting water will be automatically evaporated
The lid allows easy access to your food
Constructed from high quality stainless steel
Recessed handles take up less space and make for easy cleaning
SPECS
Model CSDW2-48VC
Doors 1
Drawers 2
Dimensions (WDH) 48.2" x 30" x 43.7"
Capacity 12 cubic feet
WARRANTY
Two year parts and labour warranty. Five year warranty on the compressor parts.