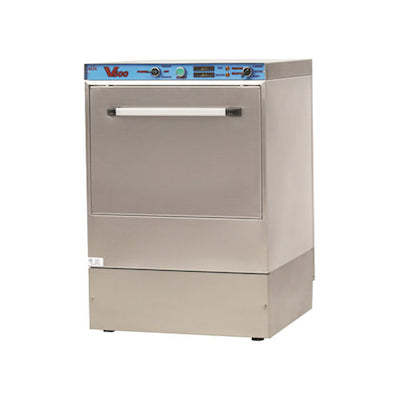 Alfa V500DP Undercounter Dishwasher – 30 Racks/Hr, High Temp
Original price
$4,699.99
-
Original price
$4,699.99
After 40 years ALFA in association with Ultimo
are proud to announce a redesigned ultra high
performance dishwashing machine line.
ALFA has developed the V500DP and V500
to the point where they provide very reasonably
priced top quality ware-washing, very
efficient use of water and power, with features
found only on very expensive or larger models.
ALFA has succeeded in maintaining this
excellent performance for our market, without
sacrificing componentquality and efficiency,
while adding desirable features,
all at an amazingly reasonable cost.
MORE INFO
Selector for choice of three wash cycles
Proof rinse feature insures proper sanitized rinse cycle
Uses standard 20" x 20" ( 500 mm x 500 mm ) baskets
Baskets supplied: 1 Dish Basket, 1 Glass Basket, 1 Cutlery Tray
Detergent pump ( standard )
Rinse aid injector ( standard )
Power drain pump included with V500DP model
Thermal protection for wash tank and booster
Wash pump: 3/4 HP
Booster tank heaters: 3 kW
Wash tank heater: 2.8 kW
Booster tank capacity: 1.5G (6L)
Wash tank capacity:9G (35L)
Door clearance: 14" (360 mm )
Low maintenance, heavy duty, all corrosion resistant, 304 stainless steel
Warranty — 2 years parts; 3. year labor ( see details )
Power requirements: 3.6 KW, 208/240 V, 60 Hz, 16 A ( 50 Hz available on request )
Hot water requirements: 1/2 GPC (2 LPC ) 120° F ( 50°C )
( will operate with cold water, at reduced capacity )
Water line requirements: 3/4" (or 1/2″ with 3/4" NPT terminal ) (hose supplied )
Water pressure requirements 30 – 60 psi ( 2 – 4 bar )
Drain line: 1" (25 mm) ( connection hose supplied )