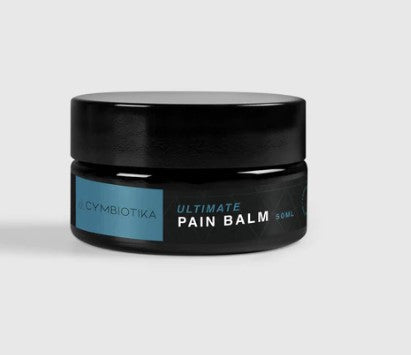 Ultimate Pain Balm
Original price
$73.00
-
Original price
$73.00
Benefits
Ultimate Pain Balm may help with the following:
Soothes aches and pains

Stimulates blood flow and increases circulation

Reduces inflammation

PRO-TIP: To reduce pain and cramping, apply Ultimate Pain Balm to the body while sipping a warm glass of Cymbiotika's Shilajit.
Description
Infused with powerful plant compounds and stem cells that relieve pain, this medicinal balm penetrates deep below the skin to relax and warm muscles while reducing inflammation. Our formula helps relieve pain associated with tension headaches, menstruation, rheumatoid arthritis and gout.
How to Enjoy
Apply balm liberally and gently massage the affected area*
Do not use on broken skin or mucous membranes. Wash hands after application and avoid contact with eyes. Repeat daily, as needed.

Store in a cool, dry place.

*To be used as directed by your healthcare provider or physician.
Disclaimer: If you are pregnant, nursing a baby, or have a chronic medical condition such as diabetes, hypertension or heart disease, be sure to consult your doctor or pharmacist before purchasing or taking any supplement.
Ingredients
Organic MCT Oil, Beeswax, Menthol Crystals, White Camphor, Peppermint Oil, Spearmint Oil, Cinnamon Oil, Arnica Oil, Turmeric Oil, Calendula Oil, Vitamin E Oil, Blue Tansy Oil, Lavender Oil, Ginger Oil, Grape Seed Oil, Eucalyptus Oil, Meadowfoam Seed Oil, Argan Oil, Pineapple Enzymes, Malus Domestica Fruit Stem Cells, Argania Spinosa Sprout Stem Cells, Black Pepper Extract, Bearberry Oil, Ginger Root Extract, Calendula Oil, Prickly Pear Oil, Marula Oil