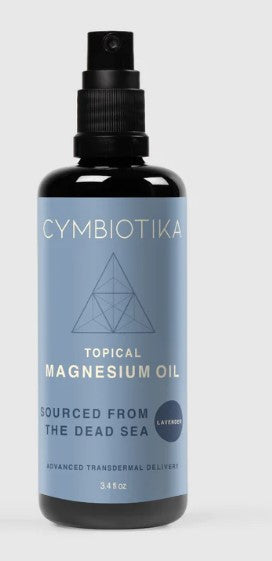 Topical Magnesium Oil Spray
Original price
$47.00
-
Original price
$47.00
Benefits
Magnesium Oil may help with the following:
Supports joint and muscular health

Promotes relaxation and symptoms of anxiety

Reduces inflammation

PRO-TIP: Take Magnesium Oil with our Liposomal D3+K2+CoQ10 to support heart health.
Description
Cymbiotika's Topical Magnesium Oil is scientifically formulated to absorb into the bloodstream within minutes, keeping your skin free of oil residue. Magnesium is an essential trace mineral responsible for more than 300 enzymatic systems that regulate diverse biochemical reactions in the body, including muscle and nerve function, blood glucose control, blood pressure regulation, and healthy brain development.
How to Enjoy
15-20 sprays twice a day*

Rub onto clean skin of the torso, chest, arms, legs, or feet. Avoid sensitive areas. Avoid contact with clothing or other lotions until fully absorbed.

Store in a cool, dry place.

*To be used as directed by your healthcare provider or physician.
Disclaimer: If you are pregnant, nursing a baby, or have a chronic medical condition such as diabetes, hypertension or heart disease, be sure to consult your doctor or pharmacist before purchasing or taking any supplement.
Ingredients
Magnesium Chloride, Ashwagandha Extract, Dragon's Blood Extract, Japanese Honeysuckle Extract, Lavender Extract, Copper Extract, Shiitake / Reishi Mushroom Complex, Aloe Vera Leaf Extract, Dimethyl Sulfoxide DMSO, Organic Blue Agave Ferment, Niacinamide, Olive Extract, Arnica Extract