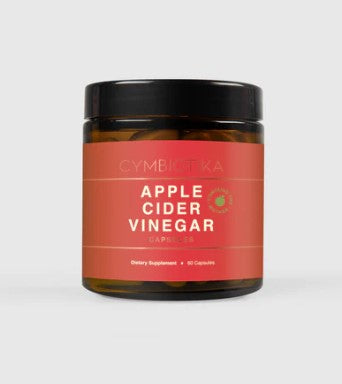 Apple Cider Vinegar
Original price
$50.00
-
Original price
$50.00
Benefits
Apple Cider Vinegar may help with the following:
Boosts metabolism

Supports healthy digestion

Helps control cravings

PRO-TIP: Take Apple Cider Vinegar with Cymbiotika's Shilajit 30 minutes prior to a meal for enhanced digestion.
Description
Cymbiotika's Apple Cider Vinegar capsules are made with organic apples in a two-step fermentation process, where fructose from apples is converted to alcohol, and then probiotic bacteria transforms the alcohol into acetic acid. This bacteria strain is known as "the mother" and contains dozens of probiotics essential for health. We've added Chromax® Chromium Picolinate and Thiamine, two compounds proven to enhance metabolism and improve insulin resistance.
How to Enjoy
Take 2 capsules daily*

Store: Keep in a cool dark place.

*To be used as directed by your healthcare provider or physician.

Disclaimer: If you are pregnant, nursing a baby, or have a chronic medical condition such as diabetes, hypertension or heart disease, be sure to consult your doctor or pharmacist before purchasing or taking any supplement.
Ingredients
Organic Fermented Apple Cider Vinegar, Chromax® Chromium Picolinate, Thiamine
Other Ingredients: Vegetarian (Hypromellose) Capsule, Organic Rice Hull Powder